Also this year Bicycle ride of the Santa Claus for the Houses of Peter Pan will start from Piazza del Colosseo.
The usual bike ride of the Santa Claus for the streets of Rome for charity is organized by the Peter Pan Onlus association and will see the members of the initiative, parade through the streets of Rome dressed as Santa Claus.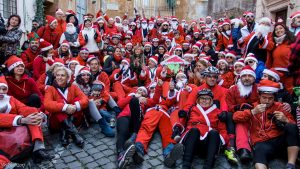 Even for those who do not want to participate actively, there will be a way to make donations and come into direct contact with the association and its activities.
The initiative, in addition to being a wonderful way to do charity, is really folklore and brings the city of Rome into a beautiful Christmas atmosphere.
The meeting is scheduled for 9:30 am on Sunday 12 December 2021 in Piazza del Colosseo.
"To participate in the event you simply need to show up on Sunday morning at 09.30 at the Colosseum. Bring a bicycle and clothes as Santa Claus. There is no participation fee or reservation to be made, but donations can be left free. The organizers will prepare a This cassette will then be delivered to Peter Pan at the end of the event. It is not a race or a sporting event, but a simple non-competitive ride within the reach of anyone. In fact, every year, many children also participate in the event. "
Those who want to participate can contact:
www.peterpanonlus.it
http://www.facebook.com/Peter.Pan.Onlus.Roma