Appian way bike tour underground Adventure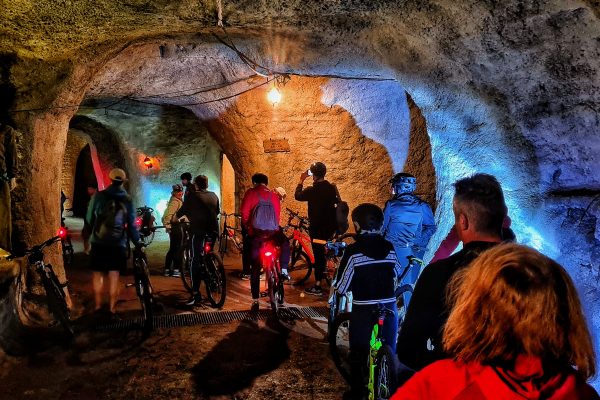 Adult (more than 4/7 ft)     € 75.00
Trailer bike (less than 4/7 ft)    € 53.00
Infant (Child seats until 25 kg)    €   0.00
Note: less than 4/7 ft, children will have a bike attached to their parent's
We are in Via Capo d'Africa 29/D
Free cancellation
Up to 24 hours in advance.
How it works:
To obtain a refund, you must cancel the experience at least 24 hours before the start time, bank charges equivalent to 4% will be deducted in all cases.
If you cancel less than 24 hours before the experience start time, the amount paid will not be refunded.
Closing times are based on the local time of the experience.
To cancel your booking you will need to contact us by email

info@romastarbike.com

or fill in the form on the following contact us page.
Appian way bike tour - One of The top Rome Tours is the Spectacular undergrounds on the Appian Way and guided tour of the Catacombs of San Sebastiano
The  appian way bike tour is One of the best tours of Rome. That's what you find in this amazing experience, go under the ancient city and have a different Roman history to tell your friends and family. There aren't many places in Rome that are off the beaten track, so we're going underground to witness the wonders of the ancient Appian Way.
This exciting site is something you have never seen before: nature, art and history converge at their best. The epitome of Rome! The Aurelian Walls will pave the way for the most exciting tour that our company will reveal to its guests. Join us as we ride our professional electric bikes through the meadows and archaeological sites of the Appian Way Regional Park.
You will descend 40 feet through a Roman quarry that stood witness to the passage of time. We tell you a story that has remained untold for a long time. The quiet but fascinating galleries that once housed ancient Roman catacombs were later closed into bomb shelters during World War II. You wouldn't be able to witness such incredible and exclusive places without us.
In addition, the perfectly preserved catacombs of San Sebastian are unique. They were accidentally discovered only 100 years ago.
We don't like spoilers though, there is so much more to see! Don't miss the opportunity to explore Rome in a non-traditional way.
TOUR ITINERARY Appian way bike tour :
Porta San Sebastiano
Roman quarry in the Ancient Appia
Ninfeo di Egeria
Appia Antica
Mausoleo di Cecilia Metella
Catacombe di San Sebastiano
COVID-19 notes
The activity will be carried out in TOTALLY SAFE mode according to all anti-covid provisions

Bikes and helmets are completely sanitized after each use.

By bicycle the distance is always respected

Remember to bring face MASK
Included
Entrance to the Roman quarry and the Catacombs
High quality e-bike
Tour Guide in Italian and English (French/German/Spanish upon request)
Helmet
Child seats (until 25 kg)
Mobile Phone and Object holder
Frequently Asked Questions
The answers provided below are based on answers previously given by the tour provider to customers' questions.
What are the best E-Bike Tours in Rome?
The best E-Bike Tours in Rome according to Romastarbike travelers are:
What E-Bike Tours in Rome are taking additional safety precautions?
What E-Bike Tours in Rome are good for avoiding crowds?
These hidden gems in Rome may have limited interaction with crowds:
One of The top Rome Tours