Experience Rome 
in a funny
way
Visit Rome by E-bike... a faster and more fun TOUR!
Rome Bike Tours
Why choose our e-bike tours in Rome
Rome Bike Tours & Rental – Roma STARBIKE –
Small Group or private tours in electric bikes and rental in Rome
Rome is a great city, as rich in history and culture as few other capitals in Europe. It's not surprising that every year it is visited by almost ten millions of tourists. Such an overcrowding means there is the need of finding an innovative way to visit the city without missing anything of what it offers.
E-bikes are undoubtedly one of the fastest, most ecological and cheapest ways to visit Rome. Unlike cars, bicycles can access all areas of the city center, even no-entry areas. Forget vehicle bans and parking problems. And also forget the exhausting walking tours under the Roman sun: with an e-bike, you will never feel tired of this city.
Tours are for the whole family. Young children travel with their parents with the child seat and the larger ones on the trailer bike guided by the parent. Book your Rome Tour by pedal–assist electric bikes with your children.
You'll be able to join our GROUP Tours with our innovative e-bikes that will allow you to discover the beauty of Rome. Alternatively, you'll be able to book your PRIVATE Tour with your friends and family, anytime and everyday (contact us at info@romastarbike.com)
We also have LUGGAGE STORAGE service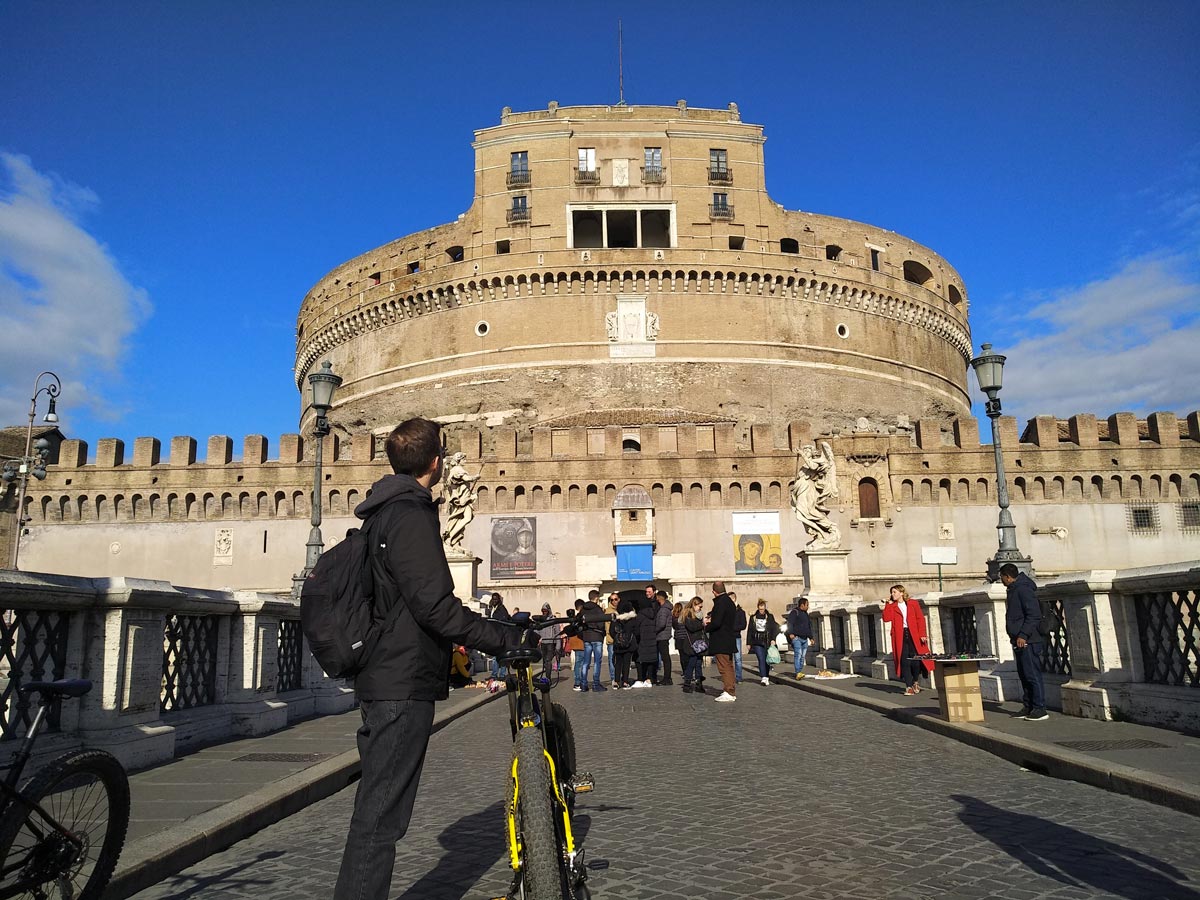 "Wonderful experience and enjoyable day. Rome is beautiful!"

Why Roma STARBIKE
Beyond history
Rome's millennial history is the main reason of the beauty of the Eternal City. With our tours you will run across the streets where some of the greatest men of the past walked. Not only Rome has a thousand-years old history, it also has an amazing traditional cuisine. In our long tours you will stop at some of the best traditional Roman cuisine places that will give your experience a unique taste.
Panoramic viewpoints
We studied our tours keeping in mind that one of the things that most tourists cannot do without is taking pictures of the breathtaking views of the city. This means that on all our routes there will be stops in panoramic areas to take stunning pictures and look at Rome from the most beautiful perspectives the city offers. The many different weather scenarios will also make your shots unique.
A different day
Roma Star Bike tours are designed to offer the best experience possible. We want to make sure our customers spend an unforgettable day with a beautiful city as background, among ancient monuments, historic buildings, majestic fountains, ancient churches with masterpieces of art known all over the world, but also with our taste itineraries of typical products and visits to authentic temples of Italian food.
Want to know more?
Any enquiry? Not sure which Tour to choose? Contact us and we will be happy to help.
FAQs - Roma Starbike -Tour bike
We collected some Frequently Asked Questions from our customers about:
Routes;
Purchase methods;
Supplied equipment;
How to join a Tour;
Payments.
If you are looking for specific informations about our itineraries and planned stops for a particular tour, please visit the dedicated pages. If you cannot find what you are looking for, please contact us for any enquiry.