If you are looking for activities to do with children, in the open air, in Rome, take a Family bike tour of Rome!
Discover the best way to visit Rome for adults and children, a 3/4 hour tour: a guided tour of Rome by electric bike!
Certainly, visiting Rome by bike is a different way to spend time with children, being outdoors and visiting the city, without fatigue and stress.
The electric bike with assisted pedaling allows you to choose the degree of electric assistance with which you want to tackle the route.
This is ideal for facing the Roman hills, even for the most inexperienced or less trained people.
In e-bikes, transporting children will not be a burden, and even parents will be able to enjoy the guided tour of Rome, having fun without fatigue!
Rome tour for children 0-5 years old
Children from 0 to 5 on our tours travel for free, on a seat (up to 25 kg).
All the tours we offer are suitable for transporting children between 0 and 5 years old and easy to travel.
The tour we recommend most for this age, is the Ancient Appian Way, beautifully combining nature and history.
The tour includes stops at: the Catacombs of San Callisto, Mausoleum of Cecilia Metella, Baths of Caracalla, among the others. The best thing for children will be to spend hours in the open air, in nature, away from pollution.
The park is rich in biodiversity. Arrived at the park of the Aqueducts, it will also be possible to spot the fox, symbol of the park.
In all our tours the complete equipment is included (bike, helmet, object holder, cell phone holder, language guide).
If you are interested in this tour,  visit the complete itinerary page and book now
Don't forget to add the child to your tour, so that the seat child can be prepared!
Rome tour for children 6-10 years old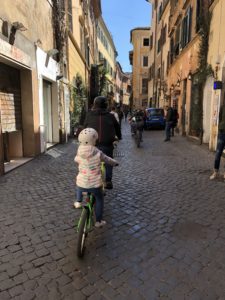 In this age group, children who participate in our bike tours use a trailer bicycle attached to the bike of one of the parents.
The trailer bike allows them to ride and have the feeling of bringing the bike, but safely.
Again, thanks to the electric bicycle, with pedal assistance, transport children will not be at all difficult or strenuous.
Both parent and child can enjoy the fun bike safely and effortlessly.
Tour price for children 6 to 10 years, with bike trailer, is of -50% on the initial price of the tour.
The tours that we propose most often for this age group are:
The Ancient Rome tour is suitable for families as it combines the fun of cycling with culture and 3D historical reconstructions.
Thanks to the help of special visors, at every stage of the bike tour, we'll be able to see how those places looked like 2000 years ago
If you are interested in this tour, visit the complete itinerary page and book now!
Our Street Food Tour of Rome, combines cultural discovery of Rome with gastronomical delicacies in different neighbourhoods.
Moreover, this tour prevails among children and teenagers. Pure fun riding a bike and tasting yummy food are obviously very popular.
Rome tour for kids
Children over the age of 10 can participate in our guided tours of Rome, using a normal electric bicycle, suitable for their height.
Before tour departure, our guide gives the participants some information on road and bike safety: a mini-course on road safety education.
For children over 10 years, each of our tours is accessible and fun. Thanks to the electric bike, all children can easily follow the tour without any difficulty.
Rome STARBIKE organizes group guided tours also for schools!
Visiting Rome by bicycle, allows kids to do a pleasant activity outdoors and at the same time, do educational activities. A real family bike Tour of Rome
All our tours are suitable for children over 10 years, but for schools we recommend:
For more information and to organize school visits, write to: info@romastarbike.com