Bike tours with children are an opportunity to explore new destinations, through the spontaneity and originality of a kid.
As with other experiences with children, bicycle tourism is becoming increasingly popular among families.
Riding a bike with a child adds details and emotions that make biking an exciting adventure.
Our tours are perfect for families.
Thanks to the pedal assisted bicycle, transporting kids will be easy and fun.
The e-bike allows you to face the path in serenity. Select the most suitable pedaling assistance level, which will allow the driver to not feel the additional weight at all.
How we make it easier for kids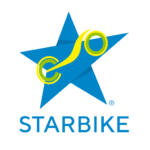 Seat: Small children (up to 5 years, or 25 Kg) can travel with one of the parents on a seat, enjoying the tour in full comfort and safety.
The tour is free For children using the seat. The seat must in any case be booked, to confirm availability.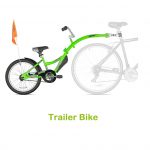 Trailer Bikes: For children over 6 and up to 10, trailer bicycles are provided.
The child is obviously hooked to the parent's bicycle, but has the opportunity to pedal and enjoy the feeling of riding a bicycle.
Children from 6 to 10 years are discounted at 50% and are carried out on the bicycle by trailer (in photo).

Bicycle or fat bike: Finally, for older kids, we have e-bikes and fat bikes suitable for their height.
The Fat Bikes, are indeed a particular type of bicycle that, thanks to larger wheels, allows greater stability on rough paths .
Road safety on e-bike tours in Rome
In all our tours the safety helmet are already in the price for each participant (including children on a seat).
The guide will therefore explain our safety regulations, how to operate the bikes at best and italian road rules. Have fun and reduce the risk!