Among the most evocative routes that we propose there is certainly the tour on the Appia Antica, one of the first streets of Rome.
The Appian way crosses the famous Parco degli Acquedotti, an important biological corridor in the center of Rome.
A unique environment and a suggestive nature are the setting for this tour, rich in historical, cultural and artistic testimonies.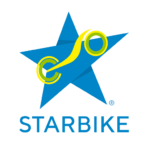 Ancient history, architecture, nature and sport in a single e-bike tour of Rome
The park contains the history of water in Rome and its engineering works, in fact six ancient Roman aqueducts converge here.
You will experience the thrill of pedaling with a high-end e-bike on a pavement of 2300 years ago.
You can relive the history of the great empire, through a unique path, littered with ancient vestiges, imperial villas, statues and tombs.
The tour culminates at the catacombs of St. Callisto.
Is the Appia Antica e-bike tour suitable for everyone?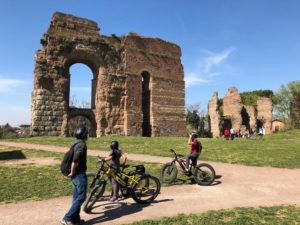 Yes, this tour is suitable for everyone, young and old, sporting and less sporty!
Thanks to the e-bikes with assisted pedaling, it is really easy to tackle the path, without stress or overload of fatigue.
Much of the itinerary takes place in paths that are not accessible to cars, so it is a tour with maximum safety.
This tour is preferred by children and teenagers, but also by parents:
For the kids being immersed in nature and being able to run around on a bike without danger is really exciting;
For parents it is a safe path that allows you to relax!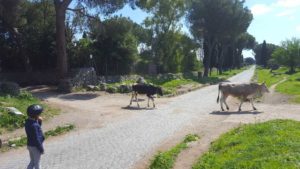 It is also a tour that really offers something fun and unexpected every time: outside the box of other Rome tours!
What the bike tour of the Appia Antica includes
High quality e-bike
Guide: Italian/English (Spanish/French upon request)
Helmet
Child seats (until 25 kg)
Trailer bicycle for children